COLORADO "HIGH COUNTRY" CLASSIC
$ 2,195.00 PLUS SHIPPING
The COLORADO "HIGH COUNTRY" CLASSIC is a light weight saddle ( 25 to 27 pounds) designed for general pleasure riding - gymkhana, trail riding, barrel racing, team penning, etc (not designed for any roping). Handmade with HERMANN OAK skirting leather and the finest materials available, this saddle is quality craftsmanship at a reasonable price. To give you both comfort and back support the COLORADO "HIGH COUNTRY" CLASSIC is built with a padded top-grain leather seat and a 4" cantle. A three way stainless steel dee in-skirt rigging eliminates the knot under your leg that the latigo can cause and gives you close contact with your horse. Also the three-way rigging gives you the ability to rig the saddle in the full, 7/8's and 3/4 position, allowing the saddle to fit a larger range of horses. Currently the COLORADO "HIGH COUNTRY" CLASSIC is being used on quarter horses, morgans, arabians, fox trotters, and mules throughout the United States. For a truly professional custom look, all edges are hand rubbed, dyed, stitched, the basket weave design is hand stamped, and the saddle is oiled to a cherry wood.
COLORADO "HIGH COUNTRY" CLASSIC is generally in-stock in seat sizes 14", 15" and 16".
SPECIFICATIONS
| | |
| --- | --- |
| TREE | Ralide with semi-quarter horse bars |
| SEAT | 14", 15", 16" padded with top-grain leather |
| HORN | 3" pleasure |
| GULLET | 6 1/2" wide |
| CANTLE | 4" with Cheyenne roll |
| RIG | 3-way in-skirt stainless dee |
| SKIRTS | Round (Square by special order) |
| SKIRT LENGTH | 14" Seat -- 24" / 15" Seat -- 25" / 16" Seat -- 26" |
| STIRRUP LEATHERS | Full 2 ½" with Blevins buckles |
| STIRRUPS | 3" Nettles "Trailblazer" |
| DESIGN | Partial basket weave |
| FINISH | Cherry wood oiled |
SEMI-CUSTOM
COLORADO "HIGH COUNTRY" CLASSIC
The COLORADO "HIGH COUNTRY" CLASSIC is available in a semi-custom version. The semi-custom COLORADO "HIGH COUNTRY" CLASSIC allows you to change the color and tooling design. Also, if needed the tree can be shaped so a better fit can be achieved for that problem horse.
$ 2,495.00 PLUS SHIPPING
SOME EXAMPLES OF THE
SEMI-CUSTOM COLORADO "HIGH COUNTRY" CLASSIC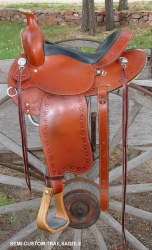 We use only the best quality materials and build our saddles and tack to insure quality and durability. Horses are strong and powerful animals that can cause the failure of the highest quality saddles and tack. Common sense and a commitment to equine safety are vital for the safety of both the horse and rider.
e-mail bob@pikespeaksaddlery.com
Copyright 2018 Pikes Peak Saddlery, Inc.